/!\ Un problème avec le lecteur? Désactivez adblock et réessayez.

Synopsis Général :
(Basé sur le roman Tensei Shitara Slime Datta Ken de Fuse.)
Satoru, employé de bureau lambda, se fait assassiner par un criminel en pleine rue. Son histoire aurait dû s'arrêter là, mais il se retrouve soudain réincarné dans un autre monde sous la forme d'un Slime, le monstre le plus faible du bestiaire fantastique.
Son nouveau corps est équipé de deux compétences uniques : « Prédateur », lui permettant de récupérer les aptitudes de ses adversaires, et « Grand sage », grâce à laquelle il acquiert une compréhension aigüe de son environnement. Mais même muni de ces armes, ses chances de survie semblent encore limitées…
Titre alternatif : Tensei Shitara Slime Datta Ken VOSTFR / Moi, quand je me réincarne en Slime / That Time I Got Reincarnated as a Slime / Regarding Reincarnated to Slime /
Titre original : 転生したらスライムだった件
Pays : Japon
Format : Série TV
Origine : Light Novel
Episodes : 24 x 23 min
Saison : Automne 2018
Diffusion : du 01/10/2018 au ? (en cours)
Début de diffusion en simulcast/streaming : 01/10/2018
Genres : Action – Aventure – Comédie – Drame – Fantasy – Seinen
Thèmes : Autre monde – Monstres – Réincarnation
Age conseillé : 10 ans et +
Studio d'animation : 8 Bit
Groupe : Tensei Shitara Slime Datta Ken
Bande annonce : CLIQUEZ-ICI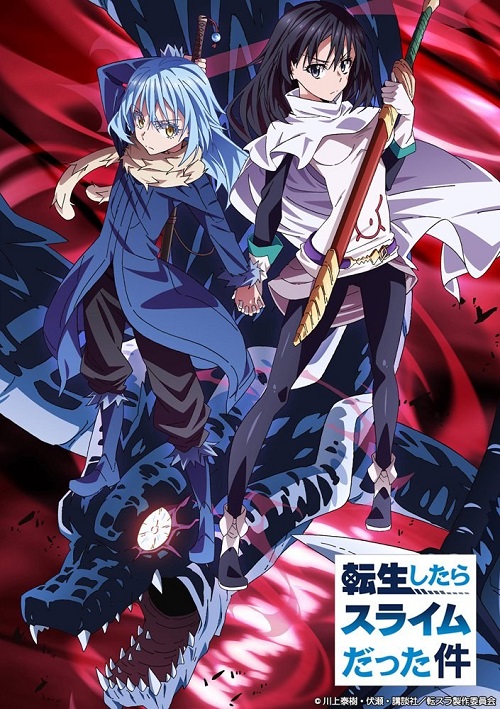 Voici un nouvel épisode de
Pour regarder Tensei Shitara Slime Datta Ken – Saison 2 Episode 15 VOSTFR, rien de plus facile, il vous suffit de choisir le lecteur de votre choix (s'il y en a plusieurs) et commencer à visionner gratuitement.

Anime Complet est un site de streaming gratuit d'animes en vostfr et vf que nous aimons bien nommer Univers Anime. Nous proposons un large catalogue de manga vostfr et vf et pour tous les goûts. Que vous soyez sur tablette, smartphone ou ordinateur, notre site intuitif s'adaptera à vos appareils et vous permettra de visionner vos épisodes préférés facilement avec JetAnime. Nous ajoutons quotidiennement des animes en streaming sur le site, anciens et nouveaux, et sommes tout le temps à jour sur les dernières sorties. Alors, n'hésitez pas, partagez ce site avec tous vos amis et profitez de vos animes favoris en HD.
qui est désormais disponible en streaming HD gratuitement.